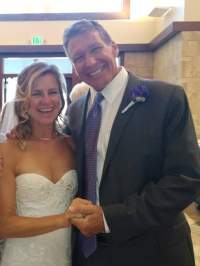 About Kate
Kathryn (Kate) Williams Pitman is a Fitness Encourager and Ambassador for Christ. Since 2010 Kate has been walking with Jesus and promoting faith and fitness. Kate loves to share her experience, strength and hope and encourages others with her story of how God healed her life. Kate personally encourages Fit partners and promotes faith and fitness as a new focus to those who struggle with addictions of every kind. She hosts Fit walks, Fit parties and Fit groups and helps Fit Partners begin these in their community. She has a Bachelor of Science in Marketing from UNC-Wilmington and worked in corporate America in her birthplace of Atlanta, GA and Wilmington, NC for over 15 years before moving to South Florida. Kate is a Certified Biblical Health Coach ready to serve her community.
Kate first prayed to receive Jesus as her personal Lord and Savior in 1995 but began to backslide into her former lifestyle, living the high life as the party girl who tried to make it to church on Sunday. She continued on a destructive downward spiral with various addictions and bad habits causing serious problems in her life. She was forced to take a good inventory of her life and look up! She turned back to Jesus and the Word of God and recommitted her life to Jesus. Praise God for second and third, fourth chances! She was invited to attend First Baptist of Ft. Lauderdale and served there, first as a greeter and then as a facilitator for her Bible Study for LIFE class with 2 others. She facilitated her neighborhood group for 4 years and began to host Partners in Christ and Fit Groups at the local Panera Bread and Whole Foods Market, sharing what other successful, fit people have taught her about how to live free of destructive habits. She also shares how God's Word so perfectly provides our spiritual diet! She enjoyed taking a Bible study into the women's jail each month and speaking to people each day whenever she can about Jesus and what God's Word says about our health and fitness. She has learned that God wants to use our gifts and talents, passions and even past mistakes for God's glory and for our success! She currently resides in Vero Beach, FL where she and her husband, Michael lead the 12 Steps for Christians recovery group at Christ Church Vero Beach each Wednesday night at 6pm. They host Spiritually Fit small group Bible studies in their home. Kate is also part time care taker to a fit 87 year old, she enjoys managing her Kate's Faith and Fitness ministry and she loves telling people her story of how God helped her get fit and totally transformed her life! "But you are a chosen people, a royal priesthood, a holy nation, God's special possession, that you may declare the praises of Him who called you out of darkness into his wonderful light." (1 Peter 2:9) As an intentional follower of Jesus Kate feeds her spirit the Word of God daily and has a constant Holy Spirit high -She is truly addicted to Jesus!
Contact her at 772-202-3878 or by email at kate@katesfaithandfitness.org to have her come share her testimony and how God has transformed her life at your small group, recovery group or Bible study! Call Kate if you need a Certified Health Coach to encourage and motivate your health and wellness plan.