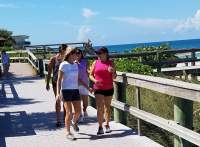 Get moving~
You can host a Fit Walk in your neighborhood-find a central place where you can meet, let your friends or church know about it, post on Facebook and social media and your local events calendar and see who God will bring to your Fit walk! It's super easy~here's some ideas...
-Meet at your safe, relaxing, central walking spot at the same, most convenient time each week.
-Introduce everyone upon arrival
-Ask if there are any praise reports for the week to celebrate
-Ask if anyone has special prayer requests for the upcoming week
-You can talk about these while you walk and you will be surprised at how God will use this discussion to help, heal and unify your community!
-People will typically begin to pair up according to walking speed, ask your partner or partners lots of questions about themselves
-Speak to others you may pass by and invite them to join you!
-You can also encourage everyone to become a Fit Partner-by praying for each other, praying for Kate's Faith and Fitness ministry and for those who struggle in life! Share with others the healthy resources and ideas available on this website.
Mark 12:30-31 reads "And you shall love the Lord your God with all your heart and with all your soul and with all your mind and with all your strength.' 31 The second is this: 'You shall love your neighbor as yourself.' There is no other commandment greater than these."
Walk with God and each other, fulfill both of these great commands and you all will be blessed!!