Choose faith not fear and boost your immune system!
Faith not Fear~ Corona Virus will not come near. This was my most recent Fit Partner letter, sign up today on our website!
Hey fit partners! Today is a friendly reminder to walk in faith not fear. As believers in Jesus Christ we believe all the promises found in His Word! Isaiah 41:10 reads "fear not, for I am with you; be not dismayed, shocked or distressed for I am your God; I will strengthen you, I will help you, I will uphold you with my righteous right hand." Fear not related verses are actually found 365 times in the Bible~1 for each day!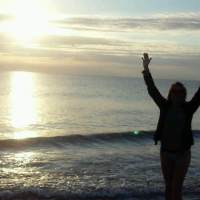 Faith is the way we respond to God. We are believers so we believe everything God says and that gives us hope! Hebrews 11:1 says "Now faith is confidence in what we hope for and assurance about what we do not see." Faith paints a vision of what we hope for-health, peace and safety, success in our marriage, our family or our school or our career. So we can visualize a positive image about our self or our life, then we release faith with our words. So I encourage you to see yourself unaffected by this virus see your family healthy happy and whole then speak accordingly! Words like "oh I know I am going to get this thing" or "I am starting to feel sick" is not the way believers should be speaking! We speak "I am healthy and whole today in Jesus name" Christians everywhere should be shouting " Corona Virus you will not come near my family and my neighborhood, get our of our country of our world in Jesus name! " Jesus cursed the fig tree and it withered up, remember?? Amen! Remember Proverbs 18:21 says the power of life and death is in our tongue and those who love it will eat its fruit! And Numbers 14:28- (God said) "Now tell them this: 'As surely as I live, declares the Lord, I will do to you the very things I heard you say"!
Speak life, health and wholeness today and rest in Psalm 91 and all the faith promises of God! Besides following our social distancing guidelines, here are some helpful tips and healthy scriptures to boost your immune system and feed your spirit, soul and body~
- pray and declare healing over those who have contracted the virus instead of watching the news. Prayer = reduced stress and healthy immune
-pray health, wholeness and blessings over your friends and family and leaders
-sleep well each night, at least 8 hours
-drink vitamin C fresh squeezed juices (no pasteurized juice boxes) or add fresh lemon, lime or pineapple to your daily drinking water
-get outside and let your body absorb healthy vitamin D
-go for a walk, bike ride, exercise! Exercise can be cutting the grass, walking around your home, vacuuming! Regular exercise = healthy immune system = lower internal stress
-be more mindful about your thoughts, be intentional, write daily lists and weekly/monthly goals. Scattered thoughts = increased cortisol and stress
-start a small garden of herbs, your fav veggies
-sanitize doorknobs, light switches and things we often touch
-fast a meal or two monthly or weekly for immune boost
-take a few minutes each day for deep breathing and laughing!
-meditate on God's healthy Word each day or listen to the One Year Bible online daily reading
-eat more fruits, veggies, nuts, grains, seeds and beans!
-grill veggie turkey burgers or fav fish
-make a healthy dish
- clean out closets, drawers, rooms
-keep house plants such as aloe, spider plants or ferns to help detox home air
-write encouraging snail mail notes
-pray God's wisdom into the minds and hearts of those in charge of countries and govt leaders
-pray for ministries helping others all over the globe!!
-watch the Go Victory app or www.govictory.com/watch for healthy Bible teaching and encouragment 24/7!
And download our free fit with God Identity in Christ scriptures list and meditate on how God sees you!
Healthy scriptures~ Deuteronomy 31:8- The LORD himself goes before you and will be with you; he will never leave you nor forsake you. Do not be afraid; do not be discouraged." NIV
Philippians 4:6-7- 6 Do not be anxious or worried about anything, but in everything [every circumstance and situation] by prayer and petition with thanksgiving, continue to make your [specific] requests known to God. 7 And the peace of God [that peace which reassures the heart, that peace] which transcends all understanding, [that peace which] stands guard over your hearts and your minds in Christ Jesus [is yours]. AMP
John 14:27- Peace I leave with you; My [perfect] peace I give to you; not as the world gives do I give to you. Do not let your heart be troubled, nor let it be afraid. [Let My perfect peace calm you in every circumstance and give you courage and strength for every challenge.] AMP
Psalm 94:19- In the multitude of my anxieties within me, Your comforts delight my soul. NKJV
Psalm 91:1-3, 16 He who dwells in the shelter of the Most High will abide in the shadow of the Almighty. 2 I will say to the LORD, "My refuge and my fortress, my God, in whom I trust." 3 For he will deliver you from the snare of the fowler and from the deadly pestilence. 16 With long life I will satisfy him and show him my salvation (wholeness, completeness, safety, health, prosperity!)."
We pray God will protect you with his wings like in Psalm 91 – we read this Psalm often in troubled times. Check it out!
Matthew 6:33- seek first His kingdom and His righteousness and everything else will be given to you! Blessings, Kate