Feed your Spirit 2019 Fast~
Happy New Year!!! This year marks my 3rd year I have begun the new year with a fast! I am so excited that my new husband is joining me this year😊 Jesus said in Matthew 16:6 "when you fast" not "if you fast" so we believe fasting is a healthy practice for followers of Christ. Fasting is a way to draw closer to God as we feed our spirit the things of God more than we feed our flesh the things of the world. We devote time normally spent eating meals to focusing entirely on God and we become more sensitive to the voice of God. We have been watching Christian TV, reading and studying our Bible more and praying together. I have heard great teaching on giving the first of everything to the Lord-the first of our week-Sunday, the first of our money with tithing and the first of the year in a fast. Blessings and favor will be ours when we give the first part of our year humbling ourselves, honoring God and seeking Him for direction in our lives, ministry and relationships. And now I am also giving Him the first of our marriage! Praise Jesus! I fasted the last few years and He brought me a wonderful Christian mate!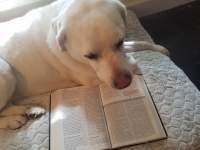 We started our fast the second week of 2019 have been eating fruits and veggies for a week. Now we have started this week with a water fast. We will conclude the 3rd week with fruits and veggies again. We have also been drinking a laxative hot tea at night to help with digestion of last weeks food since our fiber intake has now stopped. This will help keep us detoxing. We have noticed our face breaking out a bit more than usual! Once our body stops the digestion process it can focus on cleansing our skin, cells and fat where toxins are stored.
Matthew 4:4-4 Jesus answered, "It is written: 'Man shall not live on bread alone, but on every word that comes from the mouth of God.' Jesus was tempted with food while he was spending time with the Father during His fast and his reply was to remind the devil and himself that we are to also feed on the Word for our strength.
Acts 13:2 While they were worshiping the Lord and fasting, the Holy Spirit said, "Set apart for me Barnabas and Saul for the work to which I have called them." 3 So after they had fasted and prayed, they placed their hands on them and sent them off.
Daniel 1:12- "Please test your servants for ten days: Give us nothing but vegetables to eat and water to drink.
Fasting and prayer can help us hear from God, will reveal hidden sin which we need to repent, can strengthen our personal relationship with God and will build our faith and build our marriage as we focus on God's Word together. Fasting also helps me realize God alone our source and provider for all that we need according to His riches in glory in Christ. Philippians 4:19
We encourage everyone to fast a day, a week, during Lent or any time during the year to help keep us spiritually fit! Let me know if you are fasting or if you have ever fasted before and some of the benefits you have received! New year blessings, Kate