Merry CHRISTmas!!
Friday, December 25, 2020
Luke 1:26 Now in the sixth month the angel Gabriel was sent by God to a city of Galilee named Nazareth, 27 to a virgin betrothed to a man whose name was Joseph, of the house of David. The virgin's name was Mary. 28 And having come in, the angel said to her, "Rejoice, highly favored one, the Lord is with you; blessed are you among women!"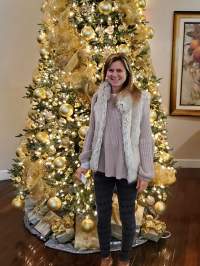 29 But when she saw him, she was troubled at his saying, and considered what manner of greeting this was. 30 Then the angel said to her, "Do not be afraid, Mary, for you have found favor with God. 31 And behold, you will conceive in your womb and bring forth a Son, and shall call His name Jesus. 32 He will be great, and will be called the Son of the Highest; and the Lord God will give Him the throne of His father David. 33 And He will reign over the house of Jacob forever, and of His kingdom there will be no end."
God first expressed evangelism to the world by sending a savior to redeem us and save us! Mary and Joseph were most likely poor and were not from the most successful or greatest town. So she may have experienced suffering, hardship and lack. It was as if God came to her through the angel saying, Mary, I see your tragedy, I see your sufferings but I have chosen you to bring Jesus to the world through you! How awesome that God would use a human, a woman to bring forth his plan of redemption. We were so sin sick-full of pride, hate, guilt, shame, blame but God loved us so much He wanted to do something about it. Praise be to God! Galatians 4:4-5 reads but when the fullness of the time had come, God sent forth His Son, born of a woman, born under the law, 5 to redeem those who were under the law, that we might receive the adoption as sons.
God is saying to each of us, "Kate, you are highly favored! I see your suffering, your tragedy but I have chosen you, Kate! I know every heartache, every pain but I will place Jesus in you and He will heal you. I want to bring Jesus to the world through you and through everyone who will receive me and partner with me"! We pray you receive this free gift from God today!
Ephesians 1:6-6 to the praise of His glorious grace and favor, which He so freely bestowed on us in the Beloved [His Son, Jesus Christ].
Thank you Pastor Jim for another uplifting, encouraging Christmas Eve service at Calvary Chapel Vero Beach, ccvb.net
Merry Christmas to you and your family~
May you allow God to bless you and favor you this year! If we can pray for you please email or call us Kate@katesfaithandfitness.org or 772-202-3878