My daily menu~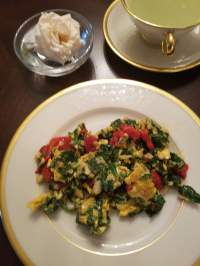 What I eat each day~
Happy birthday month to me!!! I am so excited to turn 48 this year! Well, no but I do love fireworks that come around just before my day😊 I will be 48 on July 5, I feel great and am so thankful for the all the blessings God has provided me! I believe I am the healthiest I have ever been in my life! Praise Jesus!
I ride my bike or walk on the beach each morning, (or both). I use this time to listen to the daily reading of God's Word at oneyearbibleonline.com and also listen to healthy programs on the Calvary Chapel Vero Beach app. I still enjoy swimming. I eat an acai bowl or natural breakfast each day, munch on healthy snacks and then eat a late lunch/early dinner every day. And I end my day with ice cream! Yes I said ice cream~
So here is what I eat normally-
Breakfast-Acai bowl in our new Vitamix-the perfect wedding gift!! I use one unsweetened Sambazon Acai frozen mix, frozen mangoes, coconut water, frozen bananas, frozen berries, spinach or kale and blend. I top with gluten free granola, coconut, chia seeds, hemp seeds and fresh blueberries, chopped strawberries and blackberries!
Or-1 egg, olive oil or coconut oil, chopped garlic, spinach, red peppers scrambled together over medium heat, goat cheese added at the end. Served on fine china during birthday week and always add hot sauce!
Snacks include: Hippeas from Publix, a chickpea healthy substitute to cheese puffs
Kiwi
fuji apple slices
onion bread-an all natural healthy substitute for bread from Happy, Healthy Human in Melbourne, FL
nuts-pumpkin seeds, walnuts, almonds
carob balls made with dates, carob powder with protein powder
guacamole with black or white bean chips-Beanitos!
Lunch/dinner-I eat a late lunch/early dinner around 2 or 3 pm
Salad-Caesar or spinach-dressing on the side if eating out and I always use healthy olive oil-with grilled fish
Brown rice pasta or gluten free pasta tossed with garlic, broccoli, veggies
Brown rice/or quinoa and black beans and veggies
Cauliflower pizza crust with veggies-I order this online, its pizza crust made from cauliflower!
Homemade chili with lots of veggies and beans, with or without red sauce-sometimes with bone broth only
If eating out I normally choose grilled or blackened fish and living in FLA this is super easy!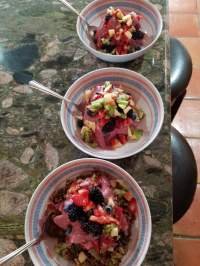 After dinner dessert-ice cream made from frozen bananas and fruit! This is so good, we top with berries and other items as in our acai bowls! The Vitamix allows for mixing fruit into a thicker ice cream substance, unlike regular blenders which need liquid to blend.
Drinks include matcha green tea latte with a very small amount of matcha as I try to avoid caffiene. Starbucks will give you 3 scoops of it in their grande size but I modify and ask for 1/2 scoop with soy or almond milk. I also drink lots of water, sparkling water and peppermint hot tea with golden steamed milk on top! Golden milk is a warm satisfying mixture of tumeric, ginger and cinnamon added to soy milk in my frother and it is delish!
It is so possible to eat naturally and enjoy all the wonderful fruits and veggies and grains and seeds from the ground. God has given us so many good food from which to choose. Download our helpful FIt Guide with helpful tips and healthy scriptures for an abundant firey life! Have a happy 4th of July and let me know your favorite summer healthy snack?!
Blessings,
Fit Kate