Physical fitness-why I choose not to accept physical pain~
Tuesday, February 25, 2020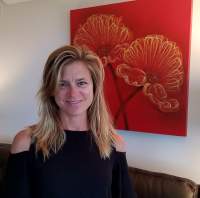 Each day we can choose our destiny. We can "choose life or choose death" (Deuteronomy 30:19). However, we live in a sick and sinful world. Thanks to Adam who allowed his wife Eve be deceived and influenced by satan, we lost our place of authority. But Jesus came to give it back to us! And I can choose to believe, receive and walk in my new identity and authority today! (1 Peter 2:9)
We are called Believers because we have decided to believe in the Good news of Jesus and in the authority of the Bible and place our faith in the promises of God. I have seen many of these come true in my life. I was given a new life that my former unhealthy habits and addictions took from me (2 Corinthians 5:17) and I have been walking with Jesus ever since! Of course I still have problems, issues, pains and sickness come. I may have to take an Emergen-C or a Tylenol or see a Specialist but I also go to the Word and see what God says about it. I take up my cross and walk in my new identity and authority and face them according to what God and His Word says, my instruction book for life! I choose not to walk by my feelings but by God's Truth.
The Bible says we will endure suffering. But the suffering spoken of in the New Testament most often refers to spiritual warfare or suffering for the sake of the cross or persecution that the early believers endured. 1 Peter 3:14 -But even if you should suffer for the sake of righteousness, you are blessed". We are not called to suffer physically because "Jesus bore our sickness and our disease and by his stripes we were healed" 2000 years ago! (1 Peter 2:24).
I choose not to accept my physical pain today because the Word says it is of the devil. (Job 2:7, John 10:10) and is not from the Lord (Jeremiah 29:11) who heals us (Isaiah 53, Psalm 41:3, Exodus 15:26). So I will rebuke or resist the devil daily and exercise my faith by actively placing him under my feet (James 4:7, Romans 16:20, Ephesians 1:22). I will continue meditating on all these promises from God daily and declaring them over my body fighting the good fight of faith which is not going to be easy and must be intentional. (Ephesians 6:10-18, 1 Timothy 6:12).
I am a Believer so I will keep believing and speaking (Mark 11:22-25, 1 Corinthians 4:13, Proverbs 18:21) my way to health, wholeness, prosperity and healing, freedom from death, being saved or protected from harm, delivered= salvation / Sotero or Sozo in original Greek! Today I choose to walk in total salvation and in everything my Savior the Lord Jesus' blood was shed to bring me! And I will walk in thanksgiving, worship and praising in tongues each day to edify and lift me up and encourage those around me. (1 Corinthians 14:4). 1 Thessalonians 5:16-18-16- Rejoice always, 17 pray continually, 18 give thanks in all circumstances; for this is God's will for you in Christ Jesus! Praise God He has redeemed me from the curse-sin, sickness and disease! (Galatians 3:13) And as a man or woman thinks in their heart, so is he. (Proverbs 23:7) I will think well thoughts about myself today!
Thanks for praying for and supporting our fitness ministry helping those who struggle with unhealthy habits and addictions and encouraging everyone get fit for Kingdom service! If you or someone you know needs prayer or if there is some way we may be of help please contact us at kate@katesfaithandfitness.org or 772.202.3878.