Spiritual fitness = Fitness, Health, Wholeness in every area of Life!
Friday, September 20, 2019
In Matthew 6:33, God says Seek first His Kingdom and His righteousness and everything else will be added to you. This is an awesome promise for us! I recommitted my life to Jesus in 2010 and He changed everything for me when I put this and other promises to work.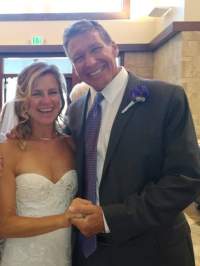 I began worshiping and serving and meditating on the Word of God. I put His Kingdom first instead of my own thoughts, habits or desires. The Holy Spirit helped me do this. I asked the Holy Spirit to lead me and guide me and manage my life and He did! I started declaring who I was in Christ, that I was a new creation (2 Corinthians 5:17) that old things had passed away. I began serving in a church, attending and facilitating our Sunday Bible study and I began to think about how I could help others. I praise God my pastor encouraged us all to read the One Year Bible! (We give these away if you need one let me know-it changed my life!!) When I began to put His Kingdom first, my wants became His wants, His desires became my desires!
Miraculously my "rock bottom" became an exciting, full life with new friends, love, joy, peace, new healthy desires, new clothes, new cars, new ocean front and perfect neighborhood homes and even a new husband! His promises are true-everything else was included as I put Jesus first in my life!
2 Peter 1:3-4 says "His divine power has granted to us all things that pertain to life and godliness, through the knowledge of him who called us to his own glory and excellence, 4 by which he has granted to us his precious and very great promises, so that through them you may become partakers of the divine nature, having escaped from the corruption that is in the world because of sinful desire." It is His very great promises that we read in His Word and then believe and receive while speaking them over our life. His promises work if we work them!
My fitness routine became a more spiritual fitness routine seeking first God's Kingdom and spiritual things like praying, talking to God every day, reading His Word and serving others. Then, my health, finances, emotions, everything else began improving!
Blessings to you! Download who you truly are in Jesus here and begin a new life walking in the Truth, not living in your emotions and feelings that change with the wind.
Email me or call anytime! I would love to share my experience, strength and hope with you! Come visit us at Christ Church Vero Beach on Sunday mornings, 9AM for Bible Study~
Kate
kate@katesfaithandfitness.org
772.202.3878