What we learned from our Feed your Spirit 2019 Fast!
Tuesday, January 29, 2019
What an amazing 2018/2019 New Year we have had already!! Thanks be to God who has blessed us with every spiritual blessing in heavenly places in Christ Jesus! (Ephesians 1:3) Michael and I got married at the end of 2018, we joined families, we moved into new home and a beautiful new neighborhood, we are enjoying our new ministry together AND we recently completed our 21 day New Year's fast, honoring God with the first part of our year and our marriage! We ate a week of fruits and veggies, a week of water only and a final week of fruits and vegetables again. WOW. I feel clean, refreshed, pure, and I realized more than ever I need Jesus! He alone is our source for energy, life and our heartbeat. He got us through it, reading and meditating on His Word got us through the fast! Matthew 4:4 reads Man shall not live by bread alone but by every word that proceeds from the mouth of God and John 6:35 Jesus says "I am the bread of life; whoever comes to me shall not hunger, and whoever believes in me shall never thirst." Amen!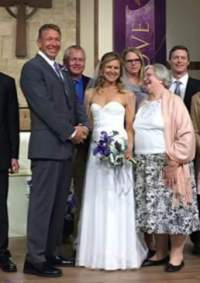 I realized there are many creative ways to eat vegetables and they are so flavorful and tasty! Mans first diet was on fruits and vegetables for in Genesis 1:29 God's original diet was on things of the ground and trees- "And God said, Behold, I have given you every herb bearing seed, which is upon the face of all the earth, and every tree, in the which is the fruit of a tree yielding seed; to you it shall be for meat." We ate guacamole each day using carrot, celery, apple and broccoli chips instead of the processed corn or bean chips we usually eat and it was fantastic! We browned up shaved sweet potatoes for nutritious hash browns and loved making acai bowls each day! The water fast was intense and we struggled with low energy levels but remembered to continuously praise God and speak in tongues for this ignited a Holy Spirit energy inside! "He inhabits the praises of His People" -Psalm 22:3 and 1 Corinthians 14:4-"The one who speaks in a tongue builds up himself…" both support this and it helped us tremendously as well as praying together and reading the Word together.
Fasting is a necessary spiritual exercise that will promote optimal spiritual fitness in your life. It brought us closer to God and to each other. We highly recommend fasting from social media for a time, fasting a meal, fasting a day or few days. It will bring you into a more joyful walk with our Creator as you put God and His Word first, not the worlds words first. We believe it honors God and keeps Him as our ultimate source for everything, and reminds us He is our Abba Father, our heavenly Daddy who we can trust and love, respect and revere. I was more mindful of how much God loves us and gave Himself for us in His Son and He will withhold no good thing from us! Psalm 84:11-For the LORD God is a sun and shield; the LORD bestows favor and honor. No good thing does he withhold from those who walk uprightly.
We began eating fish and meat and beans and eggs again and they don't taste as good as we remembered…I think we will continue eating more vegetables and fruits! Psalm 34:8-Taste and see that the LORD is good; blessed is the one who takes refuge in him! Remember when we are spiritually fit He will help us enjoy fitness and wholeness in every area of our life😊